Peas
There is an amazing quality vegetables have to mature unnoticed right under your nose until one morning you look closer to see them fully grown. If you'll look at the pictures from last week you can see the delicate white blossoms that these pods used to be.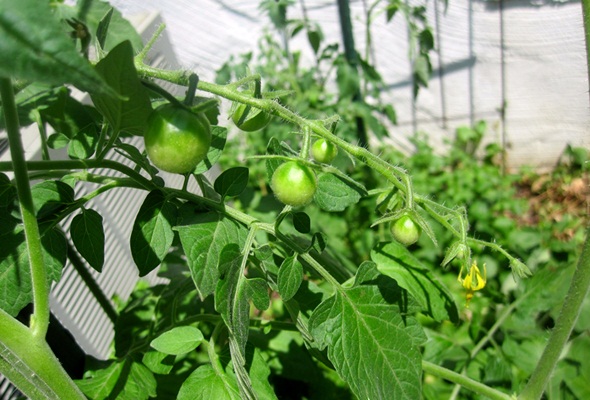 Tomatoes once more
Many happy returns of the cherry tomatoes, it seems this year will be a very productive one. Just add water.
Sow peas at two week intervals to keep a fresh harvest available through the summer, but keep in mind that peas don't like the heat. They will go from seed to harvest really fast, offering you fresh and tender fruit before the end of June.
If temperatures don't go to extremes, they will keep yielding steadily through the summer, otherwise they take a break and catch up with you when the heat subsides in September.
I haven't grown peas before, so I didn't expect to see every single flower turn to a hefty pod. I couldn't tell you if these frosty peas are better than other varieties, or if this is just the way this plant behaves. I think it is time for harvest, they don't seem to be growing any bigger, but maybe it's me, like children I have no patience. I planted a fresh bunch upon seeing these little pea pods hang in clusters on the vine.
It is hot already in the garden, but vegetables thrive on the intense energy of the sun, their flavors get stronger, their colors brighter, it's as if they are waiting for the hundred degree heat to show off at their finest.
Of yield
The potager's reputation of lacking design sophistication is so unfair and undeserved! There are few sights that cheer one's soul more than walking through the garden in the crude morning light to see the huge orange squash blossoms basking in the sunshine.
You have to see them, the beautiful veggie flowers, so delicate and unusual in their loveliness, the painted coral and white clusters of Scarlet Runner beans, the intense purple of the eggplant flowers, the pink, white and lavender blossoms of the ever so modest beans.
In the middle of summer heavy bunches of tomatoes peek through the leaves, hanging on long chords, a reflection of the pungent brick and orange marigolds. "Empress of India" nasturtiums true to their name display beautiful garb that looks like it's been dyed with sandalwood. Somewhere on the edge of the herb patch the seed heads of lovage and fennel spice the air and attract colorful butterflies.
There is a certain order in a vegetable garden, more necessary here than in the flower patch, a rhythm of spacing and height, clean pathways to get through, well trained vines complementing the elegant open work of metal supports.
The potager mostly wears green, white and yellow, have you noticed how many vegetables have yellow flowers? This color harmony reaches deeper in your mind to a memory place you didn't know existed to recognize the anticipation of plenty.
Colorful bunches of ripening chili peppers unfold like huge spiky flowers sometime in August, sharing attention with the purple cabbages and the tall stems of rhubarb. If you look closer to the ground you will see the stems swell up to bright orange carrot tops or intense purple onions.
It's mostly green, the beautiful garden, adorning this sunny morning in June.