Tuberous Begonias
We all know how difficult shady areas can be, flowers don't bloom in the shade, veggies don't grow in the shade, if anything one needs to content oneself with interesting foliage. Right? Wrong! Behold the "roses" of the shade garden, the tuberous begonias.
They are really full shade plants, even though they bloom more profusely in the dappled light underneath mature trees. I had them in my shade garden for many years and no matter what the weather or the circumstances they didn't disappoint me even once.
Don't plant tuberous begonias in full sunlight or their leaves will get scorched to fine cinders.
Impatiens
They kind of are taken for granted, being among the precious few that bloom freely in the shade, but don't underestimate the impact they can have in enhancing the chiaroscuro of your vegetal masterpiece.
Their heavy fully double blossoms that spill over the rims of hanging baskets are so large, colorful and perfectly formed that one has to get really close to make sure they are real and not made of paper, illusion further enhanced by their total lack of scent.
If you notice two types of flowers in the picture it's because of gender difference: the smaller female single flowers with cheery yellow middles look very much like the wax begonia flowers and fade in the presence of the dashing fully double male ones.
The coral colored tuberous begonias are absolutely dazzling, one can't help but be enchanted and give them undivided attention.
You can have a garden full of them and nothing else, but they are displayed at their best against the textured foliage of ferns, astilbe, hostas and bleeding hearts.
I don't have anything else to add, they are beautiful shade plants that bloom all season and will perform very well in your garden. If you happen to live in a warmer climate where they survive the winter you will enjoy them year after year without additional effort. For gardens north of zone 10 their tubers need to be dug up before winter and stored in a dark dry place with temperatures above 40F.
Showy Shade Blooms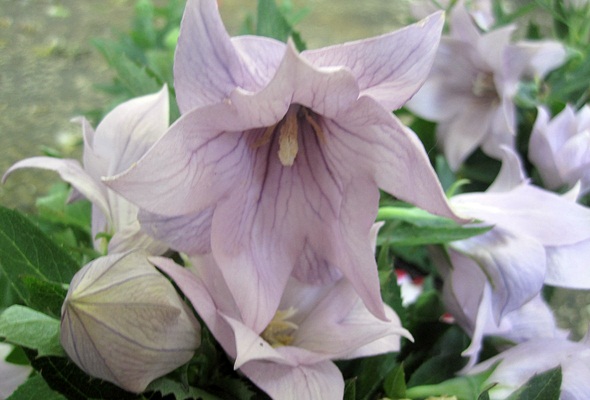 Another impressive choice for part shade - balloon flowers - easy care perennials hardy to zone 3. They have a very well behaved growth habit and make excellent neighbors. The name suits them well since their little bubbly buds look just like hot air balloons right before they open, a delight for the children, no doubt.
The truth is one has to provide the structure and resilience of perennials to bring together an established shade garden. Thus textures appear, overlapping see-through layers of fringes, palmed leaves, spikes and sprawling ground covers, with delicate spurred columbine flowers dangling atop the candy colored hearts of dicentra.
Come late July fragrant white flowers dominate the soft mounds of plantain lily, glowing in the shadows like candles suspended in thin air. Accustomed to the humid shelter of the forest, many shade perennials have the fantastic flower shapes and colors of tropical blossoms. The fleshy blooms of jack in the pulpits or toad lilies look like the most exotic and rare orchids.
One needs to pay close attention to the shady landscape in order to appreciate its charming beauty, one must broaden one's view of what makes a flower beautiful or what constitutes harmony. In the gentle mish-mash of the woody landscape, the fluffy panaches of foam flowers suddenly become light echoes in the shadows, overpowering the muted pinks and soft mauves of "real" flowers.
Don't forget to find a cozy corner under a rare tree canopy to place a little bench or a chair and surround it with lily-of-the-valley, and yes, impatiens.