Lily Flowering Tulips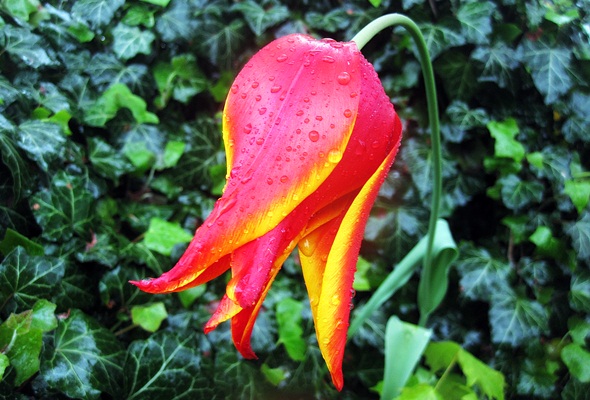 The buds of lily flowering tulips remind of their Turkish ancestry: they have an hourglass shape that opens up at the top, like a vase.
This variety tends to bloom later in the season and grow very tall (up to 2 feet high) on slender stems, which makes it more susceptible to wind damage.
The flowers are long lasting and make spectacular displays when paired with low growing bright colored annuals such as forget-me-nots or creeping phlox.
April Cheer
A little bit of sunshine from the regular shaped tulip variety. Cheerful butter yellow.
Their color range is not as extensive as that of the regular tulips, but there are quite a few to choose from.
"Ballade" fades from a burgundy purple to a light lavender with a white edge. The variety in the picture is called "Alladin". "Ballerina" is all red. "Tres Chic" and "White Triumphator" are pure white. "Elegant lady" is a delicate flesh tone. The bright yellow "West Point" is shown below. "Mona Lisa" is yellow stained with red.
My personal favorite, "Marilyn Monroe", is a wonderful painted variety of white tinged with red.
It is usually recommended that tulips be planted in large numbers to make a stunning display of colors. I can tell you that one graceful flower elegantly bending in the wind will draw you closer to find out exactly how exquisite its design is.
Swan Dance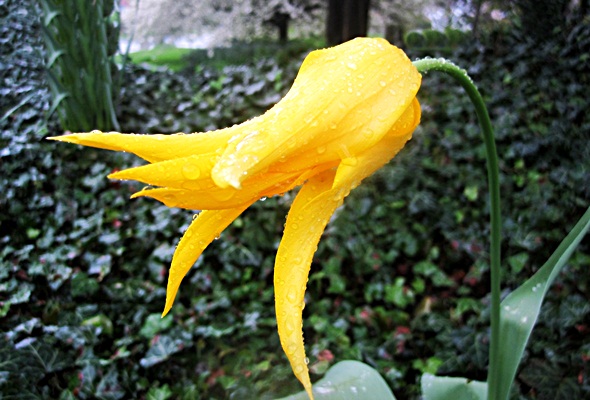 People usually don't associate dynamics with plants, since their movements are so slow they aren't noticeable to the naked eye. A still camera opens a surprising window into this unbelievably elaborate dance plants do in their own time, their time, not ours. Once you have seen this dance you actually get at a gut level that plants are living things.
I guess therein lies the answer to the question "why doesn't my garden look the way I planned it?" You can replace this question with "why doesn't my cat sit still in its corner" and you got your answer.
These beautiful lily flowering tulips are called "West Point". Even when they are not gently swayed by the wind their blooms look like they are constantly moving. The buds with reflexed petals open to a star shaped flower that floats elegantly above the flower bed.
Lily flowered tulips grow tall and slender. Don't be deceived by their apparently fragile look, this is a very resilient variety that comes back stronger year after year and is quite tolerant of windy conditions.
I wanted to take another picture of their beautiful yellow blooms, but they were waving in the wind so much that it was almost impossible. If the stems aren't moving, the petals will.